Modelling and Simulations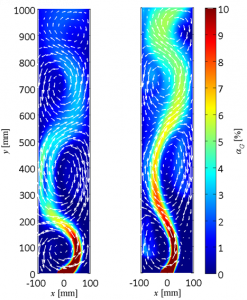 Digital models and simulations offer several advantages for the design and operation of wastewater treatment plants. However, transferring the complex nature of the processes occurring inside the plants to a detailed digital model is a challenging task. This is also true for the intricate relationships between the plant's operation and the environmental impacts that come with it. Scientists at CLEWATEC make use of a variety of software tools to develop and apply a number of reliable models for:
Computational Fluid Dynamics (CFD)
Direct Numerical Simulations (DNS)
Biological and chemical processes
Life Cycle Assessment (LCA)
With the support of the Computational Fluid Dynamics Department and the HPC resources available at HZDR, we are capable of meeting the most challenging problems regarding process modelling and simulation.
Developed Models
Heat and mass transfer
Bubble formation
Polydisperse bubbly flows
Particle behaviour in
gas-liquid flow
AIAD framework for separated
two-phase flow
GENTOP framework for flow
regime transitions
Commercial Software
Fluent
ANSYS CFX
StarCD
COMSOL Multiphysics
OpenFoam
Aspen Plus
SIMBA#
OpenLCA
Umberto