CLEWATEC
The Clean Water Technology Lab – CLEWATEC is a Helmholtz Innovation Lab located at the Department of Experimental Thermal Fluid Dynamics at Helmholtz-Zentrum Dresden-Rossendorf. CLEWATEC is an interface between research and industry where new ideas for sustainable water treatment are continuously tested and developed into breakthrough technological applications.
Disruptive innovations for the water sector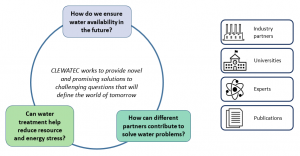 What opportunities does CLEWATEC offer me?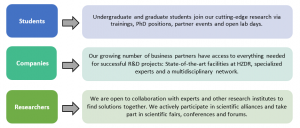 Find out more about CLEWATEC or have a look at our CLEWATEC Flyer.
January 2023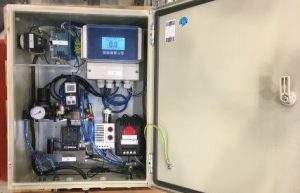 Our CLEWATEC experts Florian Ristau and Mathias Menzel manufactured a cleaning unit that enables boosting of gas diffusers with pressured gases during normal operation. This tool is tailored to operate a novel type of microperforated diffuser that is developed in the project MILA funded by DBU. It has been CE certified and will first be used by our partner Emschergenossenschaft Lippeverband during tests in their pilot plant.
December 2022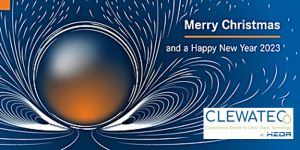 CLEWATEC wishes its project members, friends and followers a merry Christmas and a happy, healthy and successful New Year 2023!
We are looking forward to new challenges, research ideas and exciting new business opportunitites. Please contact us for more information.
November 2022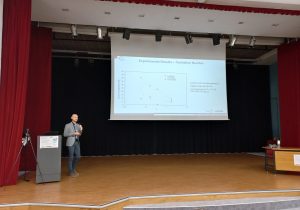 A novel Advanced Oxidation Process based on cavitation and dissolved ozone and first results of its successful application for the removal of hardly degradable micropollutants were presented by the CLEWATEC Lab Coordinator Dr. Sebastian Reinecke at the International Conference EA3G2022 of the International Ozone Association in Toulouse, France on 28th November 2022.
October 2022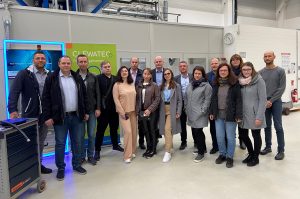 The Stadtentwässerung Dresden GmbH visited CLEWATEC together with a group of Ukrainian wastewater specialists at the end of September 2022. Our Lab Coordinator Dr. Sebastian Reinecke welcomed the guests, presented the latest research activities and gave a tour of the CLEWATEC lab.
On 13th October 2022, CLEWATEC was also visited by 12 international former HZDR scientists during an international alumni tour within the framework of the DAAD project "TrAIN – Train Alumni from Industry for NEXT Gens". The intensive innovation and exchange program aims to initiate collaborations with companies and scientific institutions around the world.
September 2022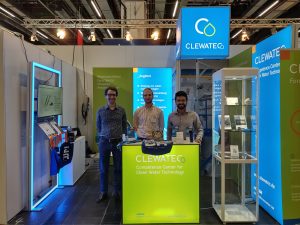 CLEWATEC presented its innovation lab at this year's ACHEMA trade fair which took place from 22nd to 26th in Frankfurt am Main, Germany. ACHEMA is the world-leading international trade fair for the process industry with 70,007 participants from 127 nations and 2,211 exhibitors from 51 countries in 2022. Please also find below a video from this year's IFAT 2022, the world's leading trade fair for water, wastewater, waste and raw materials management, where CLEWATEC also presented its lab services and research activities.
Furthermore in September, Arlo Hild successfully defended his Bachelor thesis on Advanced Oxidation based on hydrodynamic cavitation that has been supervised in cooperation with Prof. Andre Lerch from the chair of Process Engineering in Hydro Systems at Technische Universität Dresden together with CLEWATEC.
August 2022
CLEWATEC will be present this month at the ACHEMA 2022 in Frankfurt a. M., Germany from 22nd to 26th August 2022 in hall 6.0, exhibition stand A82. ACHEMA is the world-leading international trade fair for the process industry. https://www.achema.de/en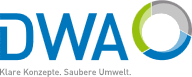 CLEWATEC will also be an exhibitor at the DWA Landesverbandstagung in Weimar, Germany on 6th September 2022. Our exhibition stand will be located in the west foyer, booth number 40. https://www.dwa-st.de/de/lvt.html
We are looking forward to your visit!
July 2022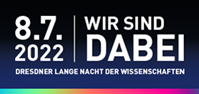 CLEWATEC will be participating in the Dresden Long Night of the Sciences on 8th July 2022. At 5:45 pm, Lab Coordinator Dr. Sebastian Reinecke will explain in his presentation at Hörsaalzentrum Dresden how oxygen bubbles can be optimized so that the bacteria in the sewage sludge tank can clean the water in the best possible way.
From 22nd to 26th August 2022, CLEWATEC will also be present at ACHEMA 2022 in Frankfurt a. M., Germany, the leading international trade fair for the process industry. Please come and visit us in hall A6, exhibition stand A82.

June 2022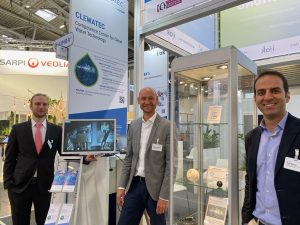 CLEWATEC presented its lab and research technologies at IFAT 2022 taking place from 30th May to 3rd June 2022 at Messe München. With 2,984 exhibitors and around 119,000 visitors, the fair was considered also this year as the world's leading platform for water, wastewater, waste and raw materials management.
Furthermore, Dr. Sebastian Reinecke also published a new research article on "Process characterization in industrial vessels by flow-following sensor particles" in the research journal "Measurement Science and Technology" where instrumented flow-following sensor particles have been developed for the investigation of hydrodynamic and biochemical processes in chemical reactors and bioreactors.
May 2022
From 30th May to 3rd June 2022, CLEWATEC will be present at the IFAT 2022 in Munich, the world's leading trade fair for water, sewage, waste and raw material management at Messe München. Please come and visit us in hall A6, exhibition stand 309. CLEWATEC will be at the joint exhibition stand "Forschung für die Zukunft" (Research for the future) together with universities and research institutes from Saxony-Anhalt and Thuringia.
April 2022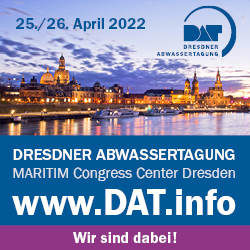 CLEWATEC has been present at the Dresdner Abwassertagung on 25th and 26th April 2022 at Dresden Congress Center with the Lab Coordinator Dr. Sebastian Reinecke and the Lab Scientist Florian Ristau. During a SpeedDATing event at the Dresdner Abwassertagung, Florian Ristau gave a short presentation on innovative sensor technology and gas injection techniques for efficient wastewater treatment.
This year, the Dresdner Abwassertagung focused on sustainability topics in water management and was well received with over 550 participants and 120 fair exhibitors.
March 2022
Initial results have been obtained with the ozone strong water test setup commissioned in December 2021. It turns out that a combined process of dissolved ozone and hydrodynamic cavitation yields the best results with pollutant removal rates of up to 41%. For further optimization, work is being done on the nozzle configuration as well as on the recirculation of partial flows.
February 2022
After the successful defense of his PhD thesis on 20th December 2021, our CLEWATEC researcher Dr.  Ehsan Mohseni submitted the proof version of his thesis entitled "Bubble Formation from Sub-millimetre Orifices" in February 2022. Congratulations!
He has also published a new research article on "Bubble formation from sub-millimeter orifices: Experimental analysis and modeling" in the research journal "Chemical Engineering and Processing – Process Intensification" where he developed a theoretical model that estimates the bubble size from sub-millimeter orifices under variable gas flow conditions.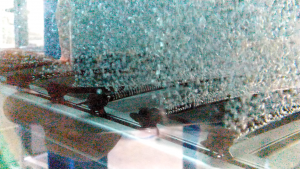 Furthermore, the project MILA (Mikroperforierte Linearbegaser für energiesparende Sauerstoffzufuhr in Abwasserbehandlung- und Aquakulturen) started in February 2022. In MILA, the experts of CLEWATEC continue to develop a highly efficient microperforated sparger concept together with the partners Air Liquide Forschung und Entwicklung GmbH and IWEB GmbH that will be tested in biological wastewater treatment basins of three plant operators and ponds of two fish farming companies. MILA is funded by the German Environmental Foundation (Deutsche Bundesstiftung Umwelt; funding number AZ 37473/01).
January 2022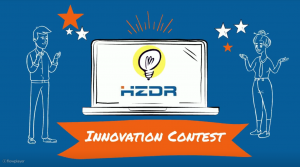 The CLEWATEC research team at HZDR has won the 3rd place of the HZDR Innovation Contest 2021 with their idea of ozone-based process wastewater treatment. This application-oriented research is conducted at the CLEWATEC Lab at HZDR. Congratulations! For more information, please see https://www.hzdr.de/db/Cms?pOid=54294&pNid=724
In a cross-innovation challenge on the topics of wastewater treatment, energy generation, recycling and modern sensor technology, CLEWATEC presented itself on 14th December 2021. Specifically, the aim was to find cooperation partners to further develop the technologies in an application-oriented manner.
December 2021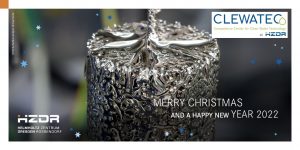 CLEWATEC wishes its project members, friends and followers a wonderful holiday season and a successful start into the new year with a lot of health, great ideas and joyful moments.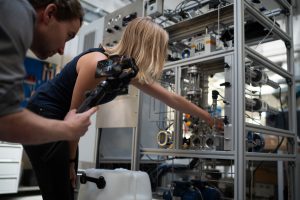 CLEWATEC has activated the Ozone Strong Water test set-up. Ozone Strong Water is a technology for micro pollutant removal via ozonation and hydrodynamic cavitation. With this experimental set-up, important insights regarding Advanced Oxidation Processes are to be gained. After testing and optimizing the set-up, it should be used as a mobile test lab for on-sight tests at wastewater treatment plants.
November 2021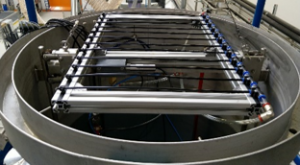 Our CLEWATEC team has published a new research article on "Energy Flexibility Chances for the Wastewater Treatment Plant of the Benchmark Simulation Model" in the journal "Processes" where the team investigated the potential of energy flexibility achieved through the demand-side response for the wastewater treatment plant of the benchmark simulation model. Furthermore, an "Experimental Oxygen Mass Transfer Study of Micro-Perforated Diffusers" was published in the journal "Energies" in which the team studied new micro-perforated diffuser concepts for the aeration process in wastewater treatment plants and evaluated their aeration efficiency.
October 2021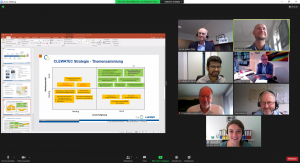 On 4th October 2021, CLEWATEC held its first Advisory Board Meeting with its advisors Prof. Jumar from ifak, Mr. Heidenreich from DBU and Prof. Schlüter from Hamburg University of Technology. The CLEWATEC management team gave an update on the current status of the lab and presented its strategy, key topics and technologies. Furthermore, future activities and perspectives were discussed as well as possibilities for joint collaborations.
September 2021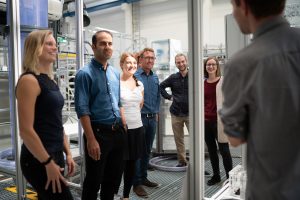 From 7th to 9th September CLEWATEC conducted a CLEWATEC Summer Workshop together with Air Liquide and BASF.  The CLEWATEC team gave an update on the ozone strong water, the low energy sparger and the dynamic gas injection sub-projects. The team also discussed the next steps and future activities. Furthermore, the workshop included a visit to the CLEWATEC laboratory at HZDR, a site visit to the BASF plant in Schwarzheide and a site visit to the Alfra plant in Mockrehna.
August 2021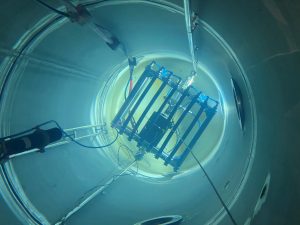 CLEWATEC launched a sub-project for the development of a highly efficient gas injection technique in cooperation with Air Liquide. First air-water experiments in the flow laboratory have shown promising results regarding the gas injection dynamics. These small-scale results are currently transferred to the technical scale, where oxygen transfer tests are conducted in the DN900 activated sludge bubble columns. The application field of the novel technique covers wastewater treatment, hypolimnic aeration and others.
July 2021

In the last few weeks, CLEWATEC has conducted several workshops regarding the development of a CLEWATEC business plan and strategy. Our aim is to develop the lab further, acquire new potential partners, define new business areas and become financially independent. Therefore, CLEWATEC has collaborated with HighTech Startbahn GmbH and conducted two workshops on 7th May and 9th June 2021 to develop a business concept and identify important strategic areas. In the following weeks, the CLEWATEC project members will meet regularly to discuss the strategy and elaborate a financial and strategic business plan.
June 2021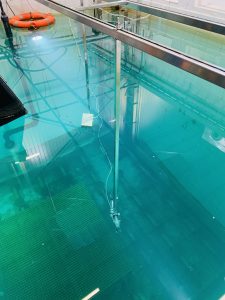 The flow camera developed by PhD Robert Herrmann-Heber was used at Air Liquide's R&D Campus in Shanghai for in-situ measurement of the gas dispersion from a novel gas injection device in a large test tank measuring 12 x 5 m² width a depth of 5 m. After the ongoing data analyses, results will be used to draw conclusions on the impacts of the hydrodynamics on the observed mass transfer characteristics.
The research article "Bubble formation from sub-millimeter orifices under variable gas flow conditions" from Ehsan Mohseni is now available for free access for a short period of time.
May 2021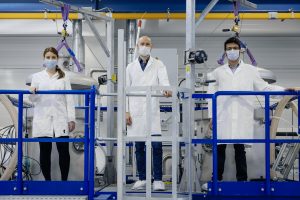 With regard to the 3-year R&D contract signed with Air Liquide, CLEWATEC has issued a press release.  > CLEWATEC Press Release.
The press release was also published on the HZDR LinkedIn page > HZDR LinkedIn. Please feel free to like or share.
Furthermore, our CLEWATEC researcher Ehsan Mohseni has published an article on "Bubble formation from sub-millimeter orifices under variable gas flow conditions" in the journal Chemical Engineering Science.
April 2021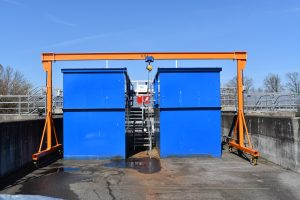 In April, the CLEWATEC team started modifying our mobile waste water pilot plant. A new gantry crane was set up which enables fast lifting of the mounting frame out of each test tank during operation. The frame carries aeration and mixing installations. The gantry crane is part of an on-site expansion of our pilot plant currently located at the wastewater treatment plant in Ottendorf-Okrilla. Soon, the CLEWATEC team will restart the facility to investigate and test gas injection concepts used for wastewater treatment in cooperation with our project partners.
March 2021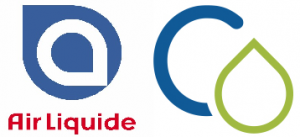 As the 1st industrial partner of CLEWATEC, Air Liquide – one of the world-leading producers of industrial gases – has signed a 3-year R&D contract with HZDR. The Kick-off Meeting was held on 4th March 2021 with attendees from Air Liquide's management board. Both institutions share extensive common interests, which can now be pursued in the context of a long-term strategic partnership. The contract covers three technical subprojects, namely the development of a highly efficient gas injection device, a corresponding control mechanism and a novel Advanced Oxidation Process based on dynamic oxygen injection.
February 2021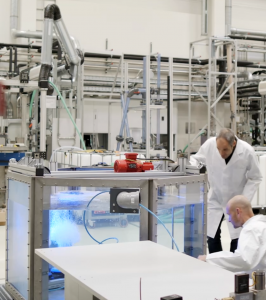 The CLEWATEC team is happy to be back in the lab after almost two months of lockdown to start implementing the approaches that have been recently identified. Sebastian Reinecke attended the webinar "Keine Energie ohne Wasser" held by DWA on 17th February, where high potential approaches for energy efficient wastewater treatment were discussed. Amongst them, also developments of novel aeration concepts from the recent HZDR wastewater projects LEOBEL and SEBAK, now handled in CLEWATEC, were presented.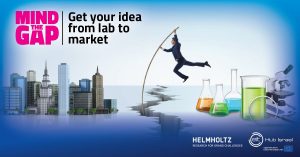 Business developer Alejandro Parra took part in MindTheGap, an international workshop on new methods for a successful innovation-to-market process conducted by top experts on technology transfer from Israel and Germany, including startups, venture capitals and governmental agencies.
January 2021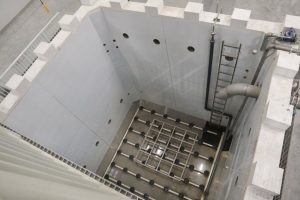 PhD Robert Herrmann-Heber developed a flow camera as a handheld measurement tool for the in-situ characterization of the dispersed gas phase, i.e. the gas bubble size distribution and gas bubble velocity, and the mass transfer in aerated tanks. He tested the equipment in our activated sludge bubble columns down to 4 meters of immersion and validated the estimated volumetric mass transfer coefficient derived from the camera data with data from commercial oxygen probes during aeration with a rubber membrane sparger. Measurements with the flow camera in a large test facility at Air Liquide's R&D Campus in Shanghai are upcoming in the next weeks.
December 2020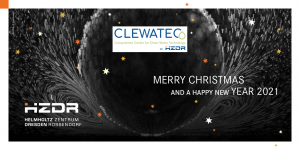 CLEWATEC wishes all its project members, partners, friends and followers a happy & peaceful holiday season as well as a good & healthy start into the new year 2021!

CLEWATEC is now also listed in the Invention Store, the German web portal for cutting-edge inventions from German research. For more information, please click here.
November 2020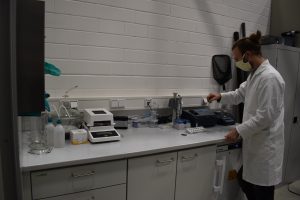 In November 2020, the wastewater biological lab of CLEWATEC was upgraded with new features. The new equipment includes a spectrophotometer, a moisture analyser as well as some additional supplementary accessories. Therefore, CLEWATEC can now provide the investigation of wastewater samples including parameters like COD and Nitrogen together with important activated sludge parameters for further wastewater analysis.
Furthermore, Alejandro Parra participated in the DWA online event "Mitteldeutscher Gewässer- und Abwassertag 2020" on 17.11.2020 where CLEWATEC was also presented with an image page in the conference proceedings.
October 2020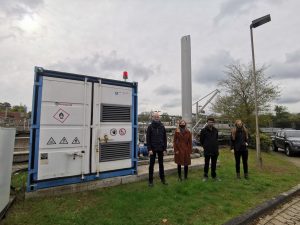 CLEWATEC conducted an Advanced Oxidation Processes Workshop in Krefeld with experts from Air Liquide and Friedrich-Schiller-Universität Jena. The team discussed new possibilities to use ozone and cavitation for applications in the fields of micro-pollutant removal and resource recovery. The participants also visited an ozonation facility operated by Air Liquide at a wastewater treatment plant.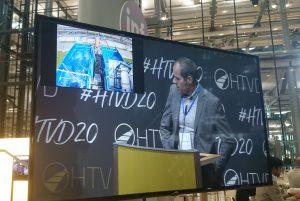 Furthermore, on 13th October 2020, our Innovation Manager Uwe Pöpping introduced our Innovation Lab CLEWATEC to international investors and corporates at the High-Tech Venture Days in Dresden.
September 2020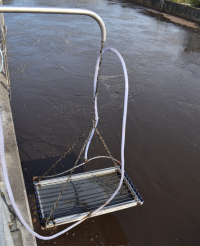 In September 2020, our Lab Scientist Florian Ristau and our Lab Engineer Mathias Menzel set up a sparger test module at a nearby wastewater treatment plant. The sparger test module is used to observe the long-term performance of spargers and other gas injection devices in real conditions of an activated sludge basin. Currently, a sparger concept with microperforated pipes of a partner is tested and its pressure drop and flow rate are logged in a digital control unit.
August 2020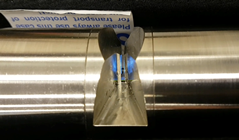 In August 2020, our Lab Scientist Nadine Matzke installed an inline spectrometer from CLEWATEC at the test facilities of our project partner Air Liquide in Krefeld, Germany. She furthermore calibrated the spectrometer and received some initial test results. The final goal is to use the spectrometer to detect the amount of micropollutants in the wastewater.
July 2020

In July 2020, the Lab Coordinator Mr. Sebastian Reinecke gave a HZDR research talk video presentation about "Methods for more efficiency in water resource recovery". The talk presented the current associated scientific topics in the fields of fluid dynamics and (bio-)chemical engineering and introduced the sustainable technological and system approaches covered by the new Helmholtz-Innovation Lab CLEWATEC.
June 2020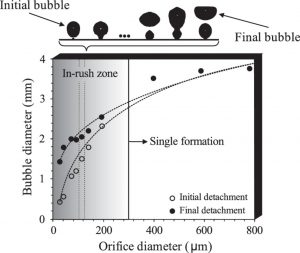 Our Lab Scientist Mr. Ehsan Mohseni published a paper "Dynamics of bubble formation at micro-orifices under constant gas flow conditions" in the "International Journal of Multiphase Flow" where he investigated the dynamics of bubble formation from submerged orifices at a comprehensive range of gas flow rates for a system of air and deionized water. He discovered that the bubble formation at micro-orifices cannot be described by quasi-static force balance and the ratio of the bubble base expansion decreases by increasing the size of the orifice.
May  2020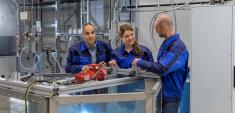 The CLEWATEC Team is now complete. Besides the Lab Coordinator Mr. Sebastian Reinecke, the project management is supported by the Innovation Manager Mr. Uwe Pöpping, the Marketing & Controlling Manager Mrs. Susann Riedel and the Business Development Manager Mr. Alejandro Parra. The expert team consists of three Lab Scientists, Mrs. Nadine Matzke, Mr. Florian Ristau and Mr. Ehsan Mohseni and the Lab Engineer Mr. Mathias Menzel.
April 2020

In April 2020, CLEWATEC expanded its expert team with two new lab scientists, Mrs. Nadine Matzke and Mr. Florian Ristau. Mrs. Matzke studied chemical engineering and has an extensive knowledge in wastewater treatment, process engineering as well as sensor and measurement techniques. Mr. Ristau studied water management with a special focus on wastewater treatment systems and energy efficiency and has previously worked at wastewater treatment plants.
March 2020

In March 2020, CLEWATEC recruited a new Business Development Manager, Mr. Alejandro Parra. He will be responsible for the search and acquisition of new partners for the CLEWATEC network. Mr. Parra studied water resource engineering and management and has a solid knowledge of sustainable wastewater treatment systems. He is interested in innovative and sustainable technologies and has already contributed with his skills in applied research and project management in previous projects.
Feb. 2020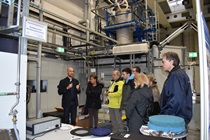 In February 2020, students from TU Dresden specializing in Hydro Sciences visited HZDR where they learned about the CLEWATEC project and visited the CLEWATEC experimental facilities.
During a company visit to HZDR, the Clean Water Technology Lab was also presented to employees of Stadtentwässerung Dresden GmbH, the urban waste-water drainage service provider for the city of Dresden.
Jan. 2020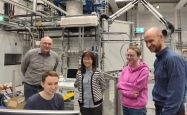 In January 2020, representatives from our project partner Air Liquide came to HZDR for a training in gas bubble size measurements and oxygen transfer measurements.
Official start of the project.
For more information, please read our Press Release from Sept. 2019.